BBQ Haque
post-punk, avant garde, psych experimental gaze, garage pop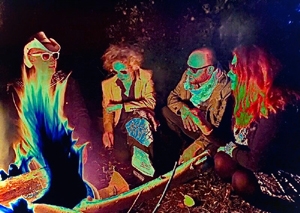 This heavily marinated ensemble of Melbourne musicians with erstwhile links to a number of Melbourne-based bands -- Arthur Karanikas (Fraudband, Nou Voudouh), Marc Regueiro-Mckelvie (Popolice, Jess Ribero, Teeth & Tongue, New Estate, Sheepies), Carla Bruce-Lee (Ashtray Boy, Cougar Vox & the Irritations, Powerline Sneakers), Danny Martinov (The Sterlings, Problem, Ryan Ferry, Michael Plater & the Exit Keys & Right of Silence) -- finally have a new release to share! BBQ Haque bring you their first full Menu Fixe with this debut self-titled long player for your listening pleasure!

Contrary to available evidence, band members supposedly first broke bread at a now defunct Parisian culinary school during the student strikes of the early 1990s. It wasn't long before they were stewing up some spicy brews and began serving it up in all ports in the EU. Forever failures at regimented curriculum, they were disgraced with expulsion due to their preference for culinary experimentation over convention.
Their desperation to stay relevant on the fine food scene, drew them to an eccentric street food vendor named Alfred Haque (although he has many aliases) and they were easily roped into 'informal apprenticeships' ... ie unpaid work at M Haque's food stall. They remain to this day captivated by Alfred Haque's magnetic but sometimes intensely rude personality. They appreciate how his eclectic and non-traditional mix of flavours creates a rough but cosmopolitan take on haute cuisine. It was as if Alfred embodied his personality into his food!

M Haque has since coached BBQ Haque to portray their personalities via unique recipes. In the formative years when encounters with Alfred resembled a friendship, there was always a clear line of distinction between master and apprentices. Trust did develop allowing Alfred to sneak out to put regular punts on the horses when the culinary school dropouts could concoct experimental dishes on his behalf. When not occupied in the food stall, the group would catch up with a casual instrumental jam after hours in a derelict chambre de bonne in the 18th arrondissement. Alfred had misgivings and strongly exclaimed: "Vous devez d'abord apprendre à cuisiner ensemble avant de jouissant ensemble!"

BBQ Haque still adopt M Haque's street vendor philosophy churning out an exotic musical menu without boundaries or conventions. Eat. It. Up.
Vinyl Pre-Order
12 inch
BBQ Haque - 'BBQ Haque'
Fanta Orange Vinyl + Bandcamp download code